What event attendees are saying…
"Awesome"
"From the heart"
"You have game"
"Like a surgeon who knows how to pull $ out of people"
What Event Organizers are Saying
How can I thank you enough for leading our donors in raising more than $1 million. You were a great auctioneer and really escalated the bidding frenzy. You understood the community, you added humor into the bidding, and you were instrumental in helping us surpass our goal!
Thank you again for everything.
Alexa M. – Chicago Waldorf School
___________________________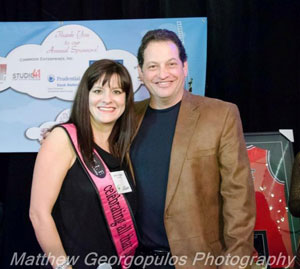 Celebrating all that is Feminine (CATIF) held its 4th annual auction and fundraiser in Palatine on February 22nd, 2013. For the second year, we had Chad Coe there as our auctioneer. As a result of his efforts, CATIF netted and donated over $20,000 to our two chosen charities this year – that is AFTER expenses for the event itself. This year, Chad amazingly sold a BLANK piece of paper for $800. His ability to leave people moved and inspired is truly amazing and we all enjoyed his energy and interaction with the group. We can't thank Chad enough for all of his help towards building up and paying it forward to the women and children in our communities that are most in need of help. Thank you Chad!!!!
Kara Cermak - C.A.T.I.F. Celebrating All That is Feminine and Kappa Kappa Gamma
___________________________
Chad Coe was the volunteer Co-Chair and Co-auctioneer at the North Suburban YMCA's 7th Annual Ken and Alta Thiel Strong Kids Scholarship Fundraising Dinner on May 1, 2013. Chad stepped in as Co-Chair when our original co-chair had a conflict. The dinner, which honored Ed Wehmer, President & CEO of Wintrust Bank, set a new record raising $253,000 with over 380 in attendance. Chad was a hands on chairman all the way through, and when we came into the evening with $180,000 in sponsorship already raised, his creativity, energy and passion elevated the desire of the attendees that night to buy silent and live auction items, raffles, and even blank index cards (Chad sold two for $600 each!), enough to get the amount spent that night over the $250k amount.
Chad tag teamed our live auction with Ron Bernardi,and the new dynamic between the two was electric. Chad also conducted our first ever paddle raise which also brought in new dollars. He has a wealth of ideas, is a great listener, and does not try to impose his own ideas on others. As someone who has been fundraising for a long time, I have had my own successful bag of tricks, and Chad was respectful of those, yet he also engaged me in such a way that I was willing to trust his judgement to go in some new directions too, and my faith was justified.
Howard Schultz – North Suburban YMCA
___________________________
You were a rock star and absolutely fabulous. We would not have raised a dime on the auction if it wasn't for you.  You are an incredible talent and I am so glad to know you.
Susan S. – Lincoln Park Chamber of Commerce
___________________________
Chad Coe is an exceptional auctioneer. Not only does he have a great sense of humor, but he has an ability to push people towards generosity! Our event fundraising was hitting a plateau, but when it came time for the live auction, Chad gave us just the "shot in the arm" that we needed to achieve our goals. We would love to have him back for our future events.
Brian Wu – Spark Ventures
___________________________
"Thank you Chad! You helped us raise nearly $10,000 at our charity last week! Your idea for 'the squares' and guest bar tenders worked perfectly in addition to your expertise behind the mic as the MC and auctioneer were key in getting donations.
Thanks for your ideas, leadership and time. We are able to purchase nearly 600 Pairs of shoes for athletes across South Africa now! Your work is influencing the world, thanks for being you."
Charlie G – Kits for Africa
___________________________
Since you've become the country's best auctioneer, we are counting on you doing that again for us this year. We'd also like you to perform the role of chief emcee.
Chad was our most recent live auctioneer for our annual fundraiser and if there was a word better than awesome, then that would describe Chad. He throws his whole soul into his auction-eering and the results are astounding! He makes people feel good about giving.
Henrietta - Tennis Opportunity Program (TOP)
___________________________
Have a charity event? Hire Chad. You won't be sorry. People can feel genuine goodness, plus wit and charm, and its a winning combination.
"Chad was a warm and engaging auctioneer.  What really distinguishes him from others is the way in which he gets the bidding up by interjecting anecdotes about the cause.  And he comes across as really knowing people in the audience. We ended up raising much more money than we expected and we will definitely call on Chad again!"
Susan Levin-Abir of Keshet
_________________________________
"I attended the Special Needs World Series of Poker fundraiser and Chad not only was the Chair of the Event, but did the live auction as well. He was outstanding at auctioning off 5 different packages and in all the years of attending auctions to purchase machinery I felt like Chad was as good as any of the Professional Auctioneer's. Chad is a Special Man and has a wide and diverse set of talents.
We should all be fortunate enough to have him in our lives. "
___________________________
I have filmed many charity events and many auctioneers but Chad Coe is the one who brings the room together to not only have fun but to open their wallets wider. Chad rocks the house!
Dan "The Video Man" Gelfond
___________________________
I haven't really had a chance to thank you for all your help and time for the Live Auction event. We were able to raise more than double our goal of $ 12,500. We have already purchased 678 pairs of cleats for 8 different youth sport organizations. We are in the process of distribution.
The success of the event would not have happened without your input and valuable suggestions. Your live auction abilities were truly fantastic.  It is a pleasure to call you my true friend.
- Vere- Kits for Africa
___________________________
We put you in an awful situation and you simply nailed it!!!! You're my hero!!!!
I don't know what would have happen if you were not there. Can you just imagine????
Chad, I have no words to express my eternal gratitude for what you've done for Tails!!!! You have a new friend, admirer and fan!!!! Actually 2…. My husband John also.
Graziela – Tails of Hope
___________________________
"It was a pleasure to attend the Special Kids Network dinner event this past Monday, and watch Chad in action as the Auctioneer! I've experienced many live auctions, but NEVER as lively, and with as much heart, and great sense of humor, that Chad brought to the whole event! Chad's approach – which is really from the heart, made all the difference in the way people responded – they wanted to open up their hearts and wallets, and they did – happily!"
Lori Dekalo
___________________________